:: Description :: :: Applications :: :: Technical Specifications ::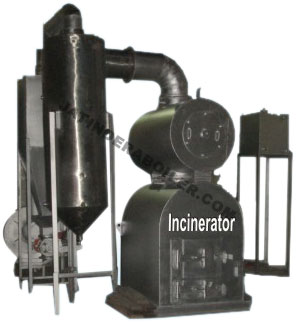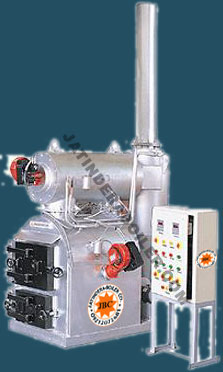 Incinerators for General Waste &
Medical Waste
:: Send Enquiry :: :: Top of Page :: :: Home Page ::
JBC Incinerator is package type, all weather type and mounted on base frame for easy transportation.

Incineration is batch type and waste feeding is manual.

The incinerator has 2 chambers, primary chamber and secondary chamber. Both the primary and secondary chambers are provided with pressure jet burners for incineration of bio-medical waste. For general waste burner is provided only in primary chamber. The primary chamber is provided with air pressure nozzles.

Cyclone separator is provided and mounted on the base frame of the incinerator to ensure that no ash particles are let out of the exhaust. The quality of incineration achieved is excellent.

A dust proof pre-wired control panel housing all safeties, temperature controllers for primary chamber, secondary chamber and flue gas temperatures are provided. It also incorporates contactors, overload relays and MCBs for electricals.

Alarm hooter is provided along with audio visual alarms for abnormal working conditions. Incase of defect in the process, the incinerator comes to a stand still and the fault is indicated on the control panel.

Suitable protection for burner is provided. Forced draft fan is mounted on the base frame of the incinerator to provide combustion air for incineration of waste. Waste charging door and ash removal door is provided on the incinerator.

The incinerator is refractory lined and does not require any civil works at site. Even the forced draft fan and the incineration chambers need no civil works as these are mounted on a base frame.
:: Send Enquiry :: :: Top of Page :: :: Home Page ::
For General Waste Like
Paper
Timber
Refusing textures
Leather
Rice grass
Non eatable foods
Synthetic resin
Rubber
Tyres
Oil socked Cotton/
cloth waste
For Medical Waste Like
Animal waste: Animal tissues, organs, body parts, carcasses, bleeding parts, fluid, blood and experimental animals used in research, waste generated by veterinary hospitals collages, discharge from hospitals/animal houses.

Discarded medicines and cytologic drugs ( waste comprising of out dated, contaminated and discarded medicines ).

Solid waste: Items contaminated with blood, and body fluids including cotton, dressings, solid plasters casts, lines, bleeding, other material contaminated with blood.
:: Send Enquiry :: :: Top of Page :: :: Home Page ::
For General Waste Incinerators

Model
Capacity Kg/hr
Incinerator
Area over Fire m3
Burning Capacity m2
Cyclone
(wxh)
mm
Stack
Floor Area
m2
1st
Chamber (HxWxL)
mm
2nd
Chamber (wxh)
mm
Height on ground (mm)
(mm)
GW
30
30-40
1010x1905x1430
920x930
0.56
1.26
820x2230
5580
320
4.7
GW
50
50-60
1080x2165x1525
1000x940
0.95
1.62
920x2300
5650
360
5.18
GW
90
80-100
1330x2130x1640
1000x1000
1.08
2.31
1016x2540
5890
390
5.99
For Medical Waste Incinerators

Model
Capacity
Incinerator
Inlet gate
Burning Area
Burning Scale
Temperature (°C )
Floor Area
Kg/hr
Net Height (mm)
Cross Height (mm)
WxL
(mm)
m3
m2
1st incinerator
2nd incinerator
WxL
(mm)
MW
40
40-50
1500
2600
750x850
1.79
2.30
800±50
1000±50
1350x3090
MW
60
60-80
1630
2800
900x1000
2.54
3.81
800±50
1000+50
1510x3570
MW
90
90-100
1770
3400
950x1000
3.98
5.11
800+50
1000+50
1990x4390
MW
150
150-160
2000
3750
1100x1000
4.76
7.37
800±50
1000±50
2050x4700
Note: We reserve the right to change any specification without prior notice.